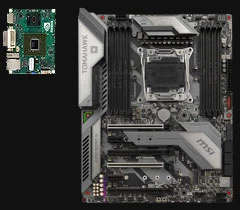 Computers differ widely in price and features: A used HP Superdome costs over $160,000 while a new HP mini-netbook costs just $300. We do not offer the lowest end products to our customers because they will not be sufficient for trading. To make a fair comparison, you will need to go beyond a few superficial specifications.
To have a computer that is fast enough to trade, you need to compare three key performance differences:
Today's volatile high-volume markets generate a huge amount of trading data that must be processed by your trading software. This demands the best processor running at the fastest speeds. To support the processor you need the fastest memory. To support the processor and the memory, you need a motherboard that deploys the best technology.
The picture on the right shows an example of the little bare-bones motherboards found in many inexpensive computers. Next to that is a full-sized full-featured motherboard similar to what we use in our computers.
A fast processor on a cheap motherboard will have its performance reduced. Motherboards provide pathways and services to support the processor, memory, and many other features.
Our trading computers are much more scalable than mass-produced computers. You can expand its capabilities to add more monitors, memory, or whatever.