We find that providing ThinkorSwim more than 6144Mb is largely ineffective. We don't suggest setting the minimum number to something less than the maximum number since ThinkorSwim will usually request a platform reboot to increase its memory usage larger throughout the trading day.
2. Remove Old Drawings In ThinkorSwim
Drawing tools are a great way to visualize data, but they can also impact performance if they're not properly managed. If you're using the ThinkorSwim platform, it's important to remove old drawings that you no longer need. Otherwise, they'll continue to take up space and slow down the platform. To remove a drawing, simply select it and press the delete key. You can also delete multiple drawings at the same time by clicking on the "Drawings" drop-down above your chart then hovering over "Remove drawings" and then clicking on the "Remove drawing set". With a little housekeeping, you can keep your ThinkorSwim platform running smoothly.
3. Collect Garbage
Try manually collecting garbage in ThinkorSwim to see if your performance improves.
Once you have ThinkorSwim open, click the "Help" tab and then "System" on the bar underneath. You should see the total, used, and free memory.

Click "Collect garbage."
Once you have clicked the "Collect garbage" button, it will clean up the memory that it was holding for nonessential data helping create room for new content to be loaded into the memory.
4. Remove The Usergui Directory.
You can remove the usergui directory to reinstall updates to ThinkorSwim, which might resolve some issues due to a faulty update.
Logout and close ThinkorSwim.
Open up your main disk C:\ and proceed to the thinkorswim install directory (e.g., C:\Program Files\thinkorswim).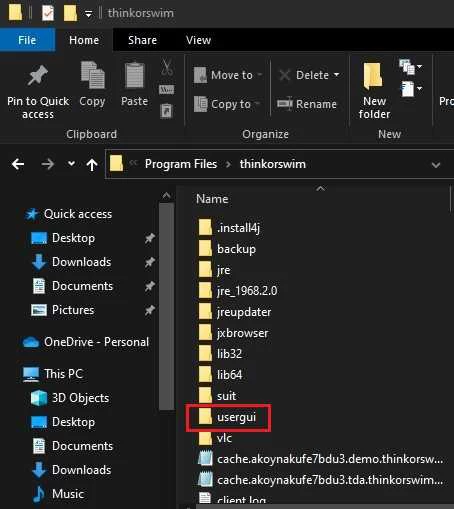 Rename the usergui folder to userguiold.
Launch ThinkorSwim again. Note that it will re-install updates which will take some time.