Choosing the Best Trading Computer Setups: What You Need to Know
What is a trading computer really achieving if it doesn't boast efficiency and productivity? The goal of the best trading computer setups is to run all the software you need simultaneously without the risk of crashing or stalling.
Time is money and seconds count when making a trade, so your trading computer must meet the requirements for an efficient trading desktop or laptop. There are many trading computer options on the market, so here are some guidelines that will help you find the right one."
Choosing the Best Trading Computer Setups: What You Need to Know
Portability
Portability is an important factor to consider if you want a good day trading computer setup. If you will be doing a lot of trading outside your home office, you may want to consider a laptop over a desktop.
Upgradability
For some users, having the option to upgrade their stock trading computer setup is important. If you're technically skilled (or can follow instructional videos), you can upgrade the hardware instead of buying a whole new computer, which saves you money.
Motherboard
A good motherboard gives you more flexibility for upgrades. If you're building a trading setup, make sure the motherboard supports newer processors and has expansion slots for additional graphic cards or RAM.
Power Supply Unit
Graphics cards and new processors can be power-hungry. If you're looking at a stock computer setup, you may want to choose a power supply with a higher wattage to accommodate future GPU and processor upgrades.
Cooling
Computers can generate a lot of heat when they're crunching numbers and running displays. A trading PC build needs adequate cooling to accommodate any additional components and to keep your trading system from overheating at the worst possible moment.
Future-proofing
The best computer for day trading will give you access to the latest tech and trends when choosing components. New features like USB 3.2 and Thunderbolt ports and DDR5 RAM give you faster access to data and speedier calculations.
Number of Monitors
The best computer setup for day trading needs to be able to support more than one or two monitors. The average trader who supports himself by trading will use between six and eight monitors. Some use as few as four monitors. New traders may find this a bit overwhelming, but once experience is gained it will make perfect sense.
What do you do with all those monitors? Here is a stock trading example:
Monitor 1: Watch the S&P 500 index in 3 time frames
Monitor 2: Market Sectors, VIX, Put/Call Ratio, ARMS Index
Monitor 3: Big list of Long/Short Candidates/Favorites
Monitor 4: Charts of likely stocks to trade today
Monitor 5: Current Positions
Monitor 6: News feed & Subscriptions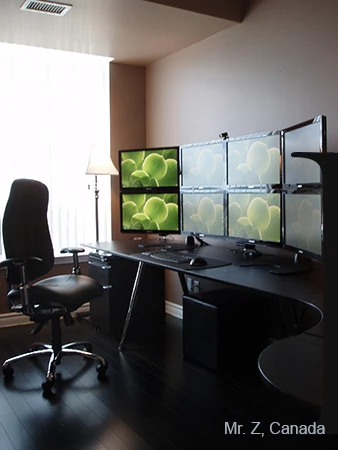 Trading Platforms
Here's a list of the most popular trading platforms compatible with the Windows operating systems: Note that compatibility may vary depending on the software versions and configurations. Make sure to consult with your seller before making a decision.
MetaTrader
NinjaTrader
TradeStation
Thankorswim
Interactive Brokers Trader Workstation
ProRealTime
eSignal
MultiCharts
Amibraker
Trading Frequency
The best day trading computer setup for your needs depends on your trade frequency. High-frequency traders executing many trades per day need a fast processor with ample memory and storage. Low-frequency traders can get by with a less powerful setup.
Budget
Basic
A basic budget trading computer build will cost between $1,300 to $1,500. It will meet the minimum requirements for trading, such as a mid-range processor, 8 GB of RAM, an onboard GPU, and a solid-state drive.
Mid-range
A mid range trading computer setup will cost $1,500 to $2,000. For the extra money, you get a more powerful processor, 16 GB or more of RAM, a larger solid-state drive, and a dedicated graphics card.
High-end
The best trading setup computers will cost $1,800 to $3,300 or more, depending of software requirements. These include a powerful processor, 32 GB or more of RAM, a fast solid-state drive, or multiple storage devices, multiple high-resolution monitors, and mulitple dedicated graphics cards.
Basic Must Haves for Trading Computer Setups
Processor
Today's good quality trading software is very demanding. During periods of intense market activity, the processor will be challenged to keep up with the flow of data and its necessary calculations. Falcon Trading Systems® computers have the best CPU for trading to keep up with the markets and get their orders in first.
We learned years ago, and it is still true today, that the most important element in a powerful trading computer is a fast processor. We make computers with the fastest stable processor speeds and we guarantee these faster speeds for the useful life of the computer. A fast processor, however, is not enough by itself, processors require a lot of information from the computer's memory.
Why This Is The Most Important Component
"Slippage" is the difference between what you thought you were going to get when you placed your order and what you actually got. Faster trading computer setups mean less slippage as your order gets to the market sooner. The extra slippage caused by using slower mass-market computers will cost you far more in the long run.
Multiple Monitors
Traders need to keep their eyes on many things at once. A good trading computer build should be able to run multiple monitors so you have immediate access to the data you need without fiddling between different tabs or windows.
Video Card for Multiple Monitors
Some users think a powerful video card is required for building a trading computer, but you can get away with less. Any card that will handle multiple monitors will do the job, although you'll find that the more powerful GPU options will help with certain trading applications
Internet Connection
A good computer setup for trading is essential, but so is a fast and reliable internet connection. If you don't have a wired Ethernet connection, try to opt for Wi-Fi 6 as it is faster than regular or everyday Wi-Fi.
RAM Memory
Trading requires lots of memory. Your trading computer setup should have a minimum of 16GB of RAM and preferably more. Most trading applications work fine with DDR4, but we have found that Thinkorswim runs better with DDR5 memory.
Cooling System
Trading computers work hard and generate lots of heat, so you need to provide enough cooling to keep them running smoothly and avoid crashing at the worst possible moment. There's no one-size-fits-all cooling solution, and the all-in-one cooling solutions are not reliable. Through experienced we've learned which cooling components are best or each trading computer setup.
Storage
Whether you're shopping for a desktop or laptop trading setup, look for a solid-state drive (SSD) with at least 256 GB of storage capacity. SSD drives keep getting faster and more reliable, and are important for trading computers.
Backup Solutions
You need to have a backup solution in place in case of data loss or system failure. You can choose cloud storage, external hard drives, or a combination of both. We love our solution of using system images that are stored on a local drive. This leads to quicker recovery times and avoids down time due system updates, viruses, and updates to trading platforms and indicators.
The Best Day Trading Computer Setup: Falcon Trading Setups
Here we'll compare desktop vs laptop computer setups for trading so you can decide which better fits your needs.
Processor: Intel Core i9 13900H, 6 P-cores, 8 E-cores, Max Turbo 5.4GHz
Storage: 500GB M.2 NVMe SSD (upgradeable)
Internet connection: Built-in Gigabit Ethernet, WiFi 6 AX Card, Bluetooth
Max number of monitors: 2
Highlights: 15.6-inch screen, backlit keyboard
Traders on the go will appreciate the Falcon F-10 trading laptop for its light weight, heavy processing power, and large 15.6" screen that makes reading charts and running simulations easy. It's a portable laptop trading setup you can rely on.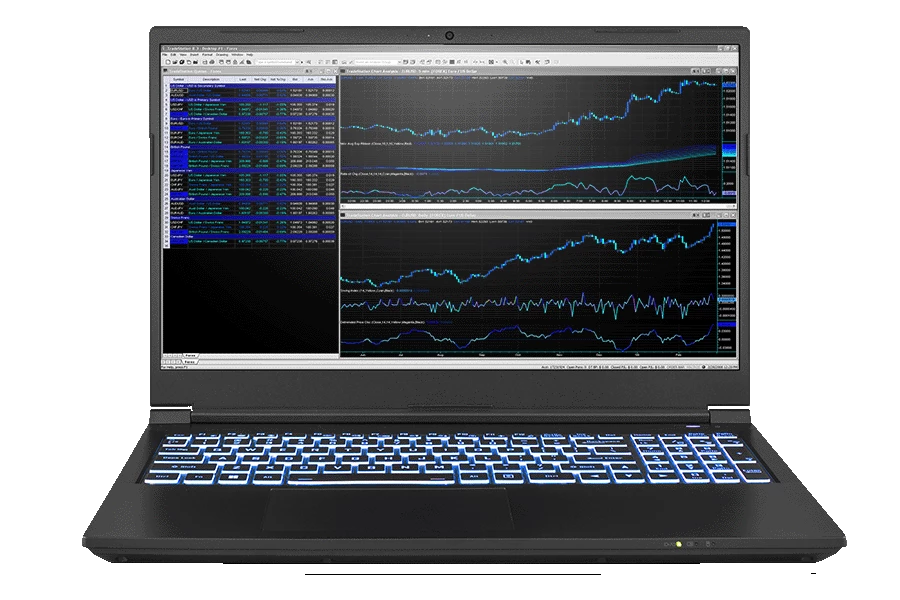 Processor: 13th Gen Intel Core i9-13900HX, 8 P-cores, 16 E-cores, Max Turbo 5.40GHz
Storage: 500GB M.2 NVMe SSD (upgradeable)
Internet connection: Built-in Gigabit Ethernet, WiFi 6 AX Card, Bluetooth
Max number of monitors: 3
RAM: 32GB DDR5
Highlights: 17.3-inch screen, backlit keyboard
Our most popular laptop trading setup, the Falcon F-15 trading laptop, has a big 17.3" screen so you can follow multiple charts with the power of the 13th Gen i9-13900HX to handle the heaviest trading.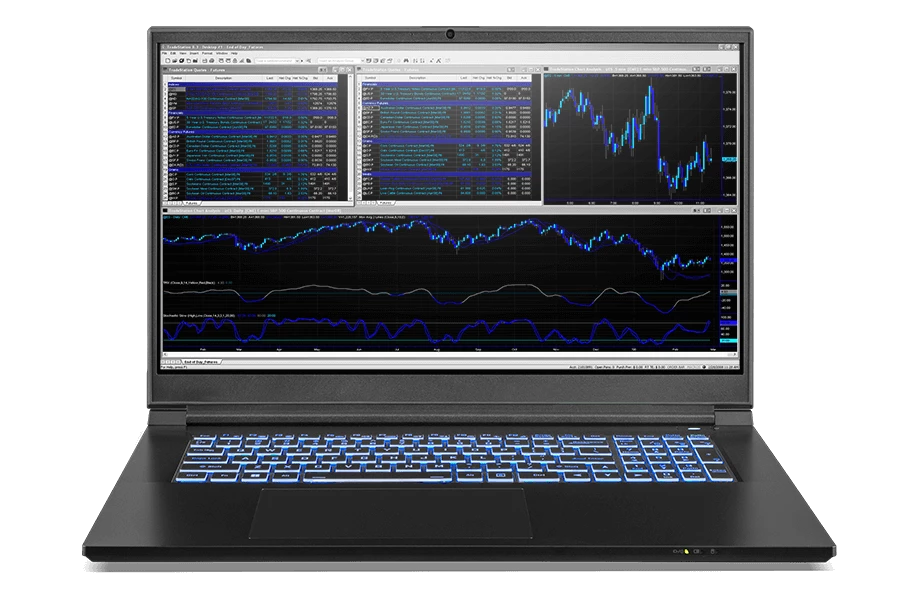 Processor: 13th-Generation Intel i9, up to 24 cores
Storage: 500GB M.2 NVMe SSD (upgradeable)
Internet connection: Built-in Gigabit Ethernet, WiFi 6 AX Card, Bluetooth
Max number of monitors: 3
RAM: 16GB DDR4, up to 64GB
The Falcon F-30 trading laptop is a serious laptop trading setup that packs a lot of power into a smaller package. You can connect up to 3 monitors thanks to the F-30's powerful NVIDIA GeForce RTX 3070Ti graphics.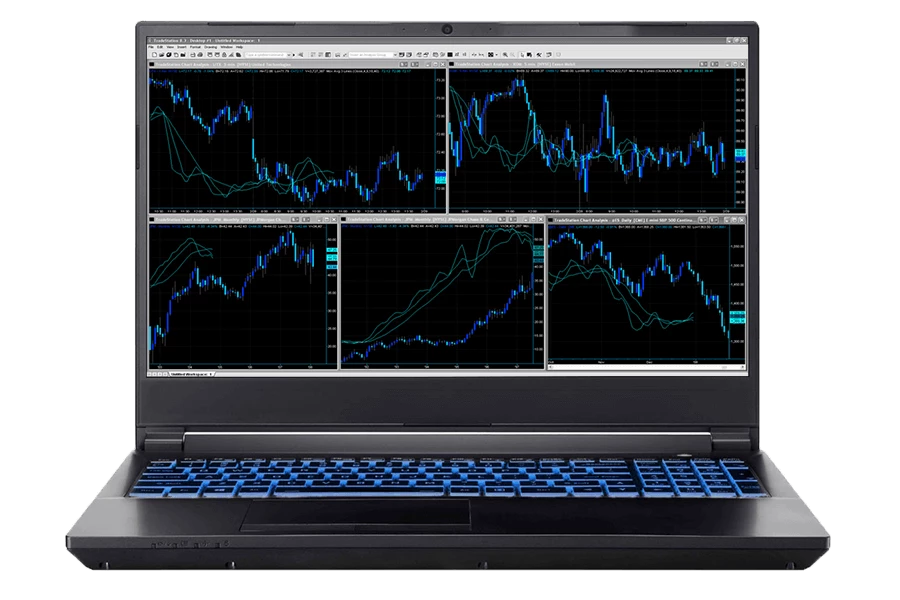 Why Choose Us
Our trading computer setups are designed and built in the US and come with a warranty and excellent customer support. Check out our Falcon trading computer reviews from satisfied customers.
Trusted by over 19,000 traders since we began 18 years ago.
Reliability
When you're trading real money you need reliability. Many people mistakenly think that Microsoft based computers are inherently unreliable based on their experiences with cheap mass-market computers. The inability to manage your trades because your computer just crashed can result in losses that exceed the value of the computer several times over. All F-series computers come with a full three year warranty alongside our extremely capable and experienced technical support staff.
Falcon Trading Systems® computers undergo an extensive series of tests to make sure each model is the best computer for day trading, customized to your specific needs.
Performance testing determines the correct settings to tune the computer for maximum stability, realization, and reliability. Non-destructive stress testing is performed to discover components that are currently functioning but are weak and will fail quickly.
Extensive static electricity controls in our production process prevent degradation of the components prior to shipment.
Warranty and Support
Our technical support staff is composed of experts with hands-on training and experience in building the best computers for day trading. Our administrative staff is highly knowledgeable. When you call other computer manufacturers, you often get automated systems, minimally trained people, and headaches. We have a different philosophy here at Falcon Trading Systems®. Call and see for yourself. Our friendly and knowledgeable staff can answer all your questions about the optimal stock trading computer setup for your needs and even more. If you want the best you should buy from the best.
Completing Your Office or Home Trading Setup
Here are some pointers for creating the best trading setup at home. For inspiration, check out our Trading Gallery
Lighting
Make sure you can dim or brighten your home office lights to fit the time or your mood. Ideally, your trading setup will have access to natural light.
Desk and Chair
Your trader desk setup requires a comfortable, sturdy desk to hold monitors and possibly the computer itself, as well as a chair to ensure an easy trading day. Don't be afraid to spend a little more on good ergonomic furniture.
Space
Keep your computer in an open area with sufficient airflow for adequate cooling. If possible, your home trading setup should also have extra wall room for future monitor installs if you decide to expand.
Key Takeaways
If you're looking for a trading computer setup, why not get one from a specialist in the trading computer industry? Contact us and one of our professionals will help you find the best computer for your trading needs.